robes designed to make work at home look and feel good
Meet the C(omfort)-Suite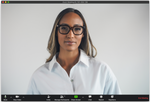 Business On Top...
Our robes are designed to have you looking your best during any video meeting, so you can go from bedroom to boardroom in seconds.
Gone are the days of wasting time trying to find the perfect Zoom outfit only to change back into loungewear the second the meeting ends.
With WorkRobe, you're always ready to attend any video meeting in style and in comfort.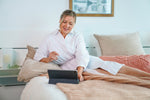 ...Comfort On The Bottom
Our styles are made with incredibly soft fabric, which we spent a year developing for the perfect level of Work From Home comfort.
Because, if you're going to be working from home, you might as well feel like it.
Warning: You may never want to take it off.
Shop Now
Learn More About The Benefits of Working From Robe
WorkRobes are loved by many. Hear from the #WorkFromRobe Community.
"WorkRobe is my go to for any meeting I have because it combines being comfy and maintaining professionalism. I am able to throw my Workrobe on knowing that I look and feel great, and no one knows it's a robe!"

Abby H.

"WorkRobe has made getting dressed for my zoom calls so easy. I can now show up looking professional for my calls while still being comfortable. I love going into my meetings knowing I am wearing a robe and the people I am meeting with have no idea!"

Courtney S.

"So easy, comfy and still cute. The perfect work from home attire!"

Anne T.

"The quality is great and it's very well made, the inner lining reminds me of a robe from a spa or hotel, it's super comfy! The AC is 2x stronger in my home office then elsewhere in my condo so I actually was wearing a robe in between meetings sometimes so this totally hit a pain point for me!"

Maryann

"Absolutely love it! Super comfortable and convenient to throw on before zoom."

Penelope Z

"I'm becoming obsessed with my robe- i need to order the rest of them. Overall I'm obsessed and ill be ordering the other two this week"

Suneera M