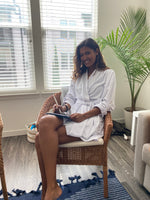 #WorkFromRobe Diaries with Aixa Brandt
#WorkFromRobe diaries dives into what it is really like to be a busy professional woman who works from home. For many of us, working from home each day and finding the balance between your personal and business life is a struggle.
This week we highlight Aixa Brandt. Aixa is in her senior year of college at the University of Tampa and is currently a content creator intern for various companies. While managing her school work load during her senior year, she is also currently looking for a full-time opportuniy in January when she graduates. 
Occupation: College Student & Content Creator Intern
Age: 22
Typical Work From Home Schedule (during the summer): 
I wake up around 7am Listen to a podcast
Have my quiet time from 8am to 8:30am with my breakfast
Take my dog to the park around 8:45 read the "morning brew, Adweek or business Insider
Then put on my robe and start looking at my emails and the list of task I have to do in asana
Have lunch around 3pm
Keep working
Go to the gym around 5:30pm to 6pm
Walk my dogs
Make dinner around 7:30pm -8pm
Start winding down by watching TV in the living room
Go to bed and read a book and my bible
Go to sleep around 10/10:30pm
Best Productivity Tip:
I have a morning routine that I stick to
Do things that make you happy like reading a book or listening to a podcast or working out
Google Calendar is you best friend to know is exactly what you have time to do and what you don't have time for.
Make a list of things to do with their due date so you know what to prioritize
Listen to music
Stress level for the week (1-not stressed and 5- very stressed) 
2
Productivity for the week (1- very productive and 5- not productive
2
How much balance between work and your personal life did you have this week? (1- very balanced and 5- not balanced at all)
2
Additional Tips
Do what you love and it want feel like work!
Favorite WorkRobe
White Blouse Robe!