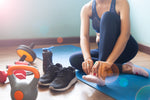 Working (out) From Home- Your AI Gym
As the world continues to heal, and protect, people are finding more and more ways to adapt their everyday routines from home. By now most people have become accustomed to working from home instead of the daily office commute. And while many people would stop at the gym on the way to work or on the way home from work, it has become harder and harder to make the trip on its own. Luckily in addition to easy non-equipment workouts there have many new innovative companies creating the at gym experience at home, from virtual instructor videos, to custom resistance training equipment. 
Every effective workout has 5 fundamental components. Starting with a warm up. This can be anything from taking the dog out for a walk, followed by aerobics which can be a light jog or jumping jacks continued with strength building exercises, then stretching and finished with a cool down session. Depending on your fitness goals whether you are looking to shed pounds or just tone, there is different equipment you can purchase to start building your perfect at home gym. 
Strength Training: The Tonal 
The Tonal is a 24 inch interactive touch screen display that is mounted on your wall. On the sides of the tonal are adjustable arms that can be brought up to eye level for chest presses or lowered for squat resistance training. With dozens of accessories, from smart handles to ropes, to a bench, the Tonal can give you the precise workout you are looking for. Worried about incorrect form? The tonal has 17 sensors built in to provide real time guidance during classes to improve form and technique. It also provides a smart spotter during bench presses which can detect struggle. Want to give it a try? Check out all their different price options here 
Cardiovascular Fitness: Peloton
The infamous bike that made waves with their Christmas marketing commercials and most recently killing our beloved Mr. Big. But even with all their ups and downs, it seems like everyone you know has one. You've been asked to join a class, accept their referral, or even tempted by their ever growing community of women on Facebook trading fashion secrets with Peloton exclusive membership. The bike is equipped with a 23 inch HD touchscreen, a 4 x 2 footprint which is smaller than a yoga mat, Apple Gymkit integration, and access to thousands of online classes. Join the tribe and purchase your bike at onepeloton.com .
Stretching and Flexibility: The Mirror
With its sleek design the mirror is not only a beautiful accessory to your home but "a nearly invisible interactive home gym". It has the largest library of workouts that can suit pretty much anyone. From boxing, to pilates, to ballet, and even tai chi it is hard not to find something you could enjoy. Like Snow Whites magic mirror, the instructor appears in your living room ready to get you moving and motivate you. With very little accessories needed other than a yoga mat, you can bend, stretch, and pulse your way into a more limber you. Start reflecting here.
The Cool Down: Workrobe
What is better than a warm shower after a long workout? A comfortable and versatile robe to put on afterwards. You can quickly transform from your gym attire to business ready within minutes. Not only are you wearing exactly what you would wear on a relaxing weekend, but it's also perfect for jumping right back into video calls. With 3 different classic styles to choose from, you will never have a problem deciding what to wear. Take a look at our customer favorites here.