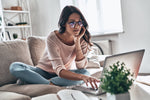 The Best Gifts For Women Who Work From Home 2021
As we end another year at home, we wanted to take the time to reflect and share some of our favorite items that have gotten us through our workday and everyday life.
We have rounded up the best gifts to give this holiday season for women who work from home. When evaluating the best gifts to give, we looked for gifts that improve your work space, add comfort to your life, make working from home more efficient, and improve your zoom appearance.
1- WorkRobe 
Yes, we are a bit biased with this one, but we are not alone. Hundreds of women across the country have shared how WorkRobe has made getting dressed for work easier than ever. Our recommendation is to have a new robe for each day of the week. Be confident, comfortable, and professionally dressed for your video meeting in an instant. Browse our collection here!
2- DigiCards
Can't figure out when it's your turn to talk, or worse yet don't know how to unmute yourself? Use DigiCards! DigiCards will help you in all your troubleshooting needs as make a lasting impression in your zoom meeting, or classroom. Holding up a DigiCard is proven to add joy to every video meeting. You can even make custom cards to fit the perfect occasion. Don't believe us? Try it for yourself. Learn more about DigiCards
3- Worky
The Home Office makes any space in your home an office space by bringing together all the elements of a productive desk setup in one convenient, mobile workspace! It features an LED light to help you look your best during video meetings, a power strip for all your charging needs, and a dry erase board to take notes, keep track of your to-do lists or brainstorm ideas. At the end of the work day, simply fold it up and put it away - The Home Office cleans up all the papers, pens, papers, charging cords, and sticky notes to bring productivity and organization back to your life! 
Use promo code WORKROBE10 to receive a 10% discount at workylife.com
4- Elizabeth Sutton Chair
Why can't your desk chair spark joy? We have found the perfect desk chair that not only will be comfortable but also immediately put you in a good mood when seeing it. Partnering with the largest manufacturer of office chairs, Sutton has designed desk chairs that feature her signature geometric patterns in a variety of colors that will transform the practical desk chair into a bright showstopper for the home. The chair's frame was designed to provide comfort and support, and combined with Elizabeth's unique artistic flair, the pattern is perfect for any environment. The chair is available in either white or black frame, with either silver or gold accent options to match any décor. Shop now, thank us later at elizabethsutton.com!
5- Taja Collection Candles
Burning candles set a feng shui to your room that puts your mind at ease, and cleans the air. After testing various candles, one of our favorites is the Taja collection. Not only are they made with 100% soy wax, 0% phtalates, 0% parabens, and 0% synthetic dyes, they smell great and are customizable! From the color, to the design and even the scent is up to you. The chic designs fit perfectly in any room of the house. They also make the perfect holiday gifts for friends, co-workers, and loved ones. Start designing and zen out at tajacollection.com
6- Ring Light / Selfie Light 
It's all about the lighting, and knowing your angles. With the Neewer Ringlight Kit you can look your best even when it's been a long day (don't worry we have all been there). Neewer has a sturdy tripod that adjusts to multiple heights whether you are sitting or standing. It also has multiple color temperature and brightness settings, this ring light gives you the most control over your lighting. Don't believe us? Check out the 48,000 reviews that agree. Available for purchase on amazon.com


7- Wireless Earbuds 
The Sony WF-1000XM4 wireless earbuds have left their competitors in the dust with this top of the line noise cancelling technology and perfect sound quality. Their battery life lasts 8 hours of continuous listening with noise cancellation turned on and has wireless charging capabilities as well. Available in matte black or light grey with rose gold accents this beautiful accessory is classic making any outfit elegant. Silence out the world while tuning in to your favorite jams here.
8- Felix Gray Glasses
From the computer, to our phone, to the television and everything in between our eyes take a toll when it comes to harsh lights and strained focus. Protect your most important asset with Felix Gray Glasses. Felix Gray provides 2 lense options clear, and amber both available in prescription, non-prescription, or readers. The clear is a non visible blue light filtering lens that helps with any screen time while the amber is best used at night to help improve your sleep quality. Learn more at felixgray.com
9 - Beachwaver Curling Iron
Available in different colors, sizes and voltage options the Beachwaver Curling Iron is our go to hair styling tool to feel put together in the morning. Getting ready easily for our zoom calls is a necessity and this product gets your hair looking great instantly. Easy to use, these curling irons add shine, and shape without damaging or burning your hair. Curling has never been easier with their rotation button that rotates the wand in both directions avoiding snags or needing to be double jointed to get that perfect curl. Shop now at beachwaver.com
10- Green Screen 
The collapsable and easy to carry elgato is the perfect tool for you to use to create your own virtual background. You can transport your audience in a moment's notice whether you are creating a TikTok, or want to give a presentation in front of a step and repeat. Ideal for any size workspace this green screen guarantees a wrinkle-resistant, chroma green surface. All you need to do is pick your background, sit back and dazzle your audience
.
Shop now at elgato.com